Visitor Comments: WAKEFIELD, Max (National Science Foundation (USA) Post Doctoral Fellow)
2007-08-01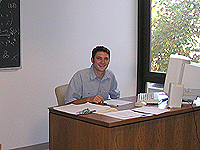 My experience as a postdoctoral fellow at Hokkaido University Department of Mathematics has been both comfortable and stimulating. The kindness and patience of the Department's fluent English speaking staff made the initial transition and everyday life not only easy but also exciting. For example, as a result of administrative staff efficiency, I spent my third night in Japan comfortably sleeping in my new, high quality and relatively inexpensive apartment.
The research environment continues to exceed my expectations. The Department not only holds many intriguing high caliber research seminars, but it also host many international conferences (I would guess about 10 per year!). But what most contributes to a stimulating research environment is the departments friendly professors. Discussing mathematics with them has been a great pleasure that I will remember for the rest of my life.
Let me briefly discuss the topic of language. I came to Japan with zero Japanese language skills. However, due to help from administrative staff and professors, issues related to my apartment, phone, internet, visa, alien registration, etc. are almost effortless. I have also found a great joy in studying Japanese. I wont pretend that learning Japanese is not extremely difficult. However, since the Japanese language has a small number of sounds, pronunciation is relatively simple and kanji can be very beautiful once you've learned a few. So, I highly recommend utilizing one or two of the University's many free Japanese classes.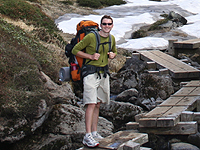 Before I finish I want to say a few words about the city: Sapporo. It was rated the "most desirable" city in Japan for the last two years (2006, 2007 by Brand Research Institute). While Sapporo has the feel of an international metropolis, it also has a sense of seclusion and peacefulness. It is surrounded by mountains and oceans, and hosts phenomenal restaurants (wonderful beer, seafood, soup curry, ramen,and much more) and fun festivals. Moreover, because the University started as an agricultural college the campus contains large farms and gardens. Just outside the doors of the department are beautiful fields, a wonderful brush and tree garden, and a large pond all providing nice short walks for either inspiring insights or relaxation.
Overall, my stay in Sapporo has been wonderful and I hope that many more young researchers will visit Hokkaido University's Department of Mathematics.
(August, 2007)